My OrCam Journey


my experience with OrCam:
 I've decided to jump into the thick of it by ordering the newest OrCam product,A Portable, Wearable Visual System for Blind and Visually Impaired Persons.  
Join me on my journey to find out all the in's and out's of OrCam  It all starts with the order page on their site.  very easy to get through, no money changes hands here, you are placed onto a waiting list, and when the product becomes available you are notified,
here is my thank you notice:  Beginning date January 27 2015 
Dear richard,
 Thank you for joining the waitlist and for your interest in the OrCam device. Your place in line in now reserved. The number of responses we've received has been overwhelming. We are currently in the midst of a Pre-Launch Program, where a group of initial users is continuing to give us feedback on their daily use. Our expectation is to announce our official US launch within the next few months. Please like us on Facebook and check back on our website for updates regarding availability of additional OrCam devices. 
 Best Regards,
The OrCam Team
I will keep adding to my journey as it becomes available.  my hope is to make videos as i go along.  Check back often to see where i am in this process.  
march 20th request for information on wait list
Dear Richard, Thank you for your email and for checking in with us. Rest assured, your details and request for a device are in our records and your place on our waitlist has been secured. We are currently in the midst of a Pre-Launch Program, where a group of initial users is continuing to give us feedback on their daily use. Our expectation is to announce our official US launch within the next few months, at which time OrCam devices will become available for purchase. We will do our best to include you as soon as possible, either in pre or post launch.
Best Regards,The OrCam Team
---------------24/03/2015hello can you tell me where i am on your wait list ??
i'm trying to keep my website users informed of my beginning to end use of your product. 
as well as through my newsletterhttp://archive.constantcontact.com/fs104/1116489863555/archive/1120164192091.html

best regards 
richard slinde 
www.lowvisiontechnologies.com

my april 1st. communication with orcam
Richard Slinde · Elkins Institute of Technology
hello OrCam

thank you for the in-depth progress report update, those of us waiting of course are waiting patiently
i like the fact that you are using your timeline and not being coerced to offer your product before it is ready.
I'm hoping facial recognition will be included in the initial launch. here's to your smooth transition. Bravo
for all of the help you are giving to our community . It is going to change the playing field, something we've all been waiting for for quite sometime now.

vest regards
RichardReply ·
received my phone call from OrCam
i received a phone call from OrCam and returned their message today May 10 th .  Look forward to my conversation with them tomorrow.  The Fun Begins !
MAY 11 2015
Spoke with my interviewer Chris this morning.  He explained to me all of the options available to me right now.  What that meant was text and product recognition, as well as facial recognition.  When we speak of text, that means script is not recognized, not yet anyway.
 I was also told it does not read bar-codes.  I asked ab out bus recognition as well as the trains  When you watch one of the videos, it shows a young woman placing her finger into the air to read the bus that is coming towards her.  That is not ready yet, but is being worked on.
 The train schedules, as long as they are text are certainly available through the device.  Since i use the bus system as well as the trains to get in and out of Chicago, I am hoping this will make it much easier for me to maneuver through the city.
 It is also going to make it much easier to read my phone and i-pad, as well as my computer.  I use many apps on my phone to help myself out, it will be very helpful not to open one of them when i need to read something.  
At the end of the call i was given my price point and told that OrCam would send an email to me in several days.  I was instructed to send along the money. My product would then be sent to my trainer, and he would then contact  me to set up an appointment to start my training.  I was also given information on product failures or repairs.  It is nice to know that ll takes place here in the United States in Jericho New York.  
My next step will be to pay, then wait for my trainer to call.  More to follow.
MY RECEIPT FROM ORCAM 
DATED MAY 17 2015
Dear Richard,
Thank you for purchasing an OrCam device.
I have attached to this email your receipt for the payment as you requested.
 Please let us know if you have any questions.
Best Regards,
Eytan The OrCam Teamwww.orcam.com 
My next step will be awaiting my call from my trainer, who aim told lives here in my community.  Waiting patiently. 
my call from the trainer
During the week of the 25th, I received a phone call from my OrCam trainer, Matt, to set a time and date for my first training session. My friend Carol was in town for a visit and agreed to take pictures and video of the training, which I will include here. After introductions, Matt started by opening the box with the device and the myriad of components that come with it. After explaining how each part was used, he went directly for the package of adapters that would hold the unit in place on my glasses. We tested a couple of different sizes, found the right one, and Matt showed me exactly how to hold the camera as we snapped into place on the frame. To complete the set-up process, we talked about the functions of the three buttons on the computer. They are for Power, Volume, and Camera and are all very easy to use.
my training begins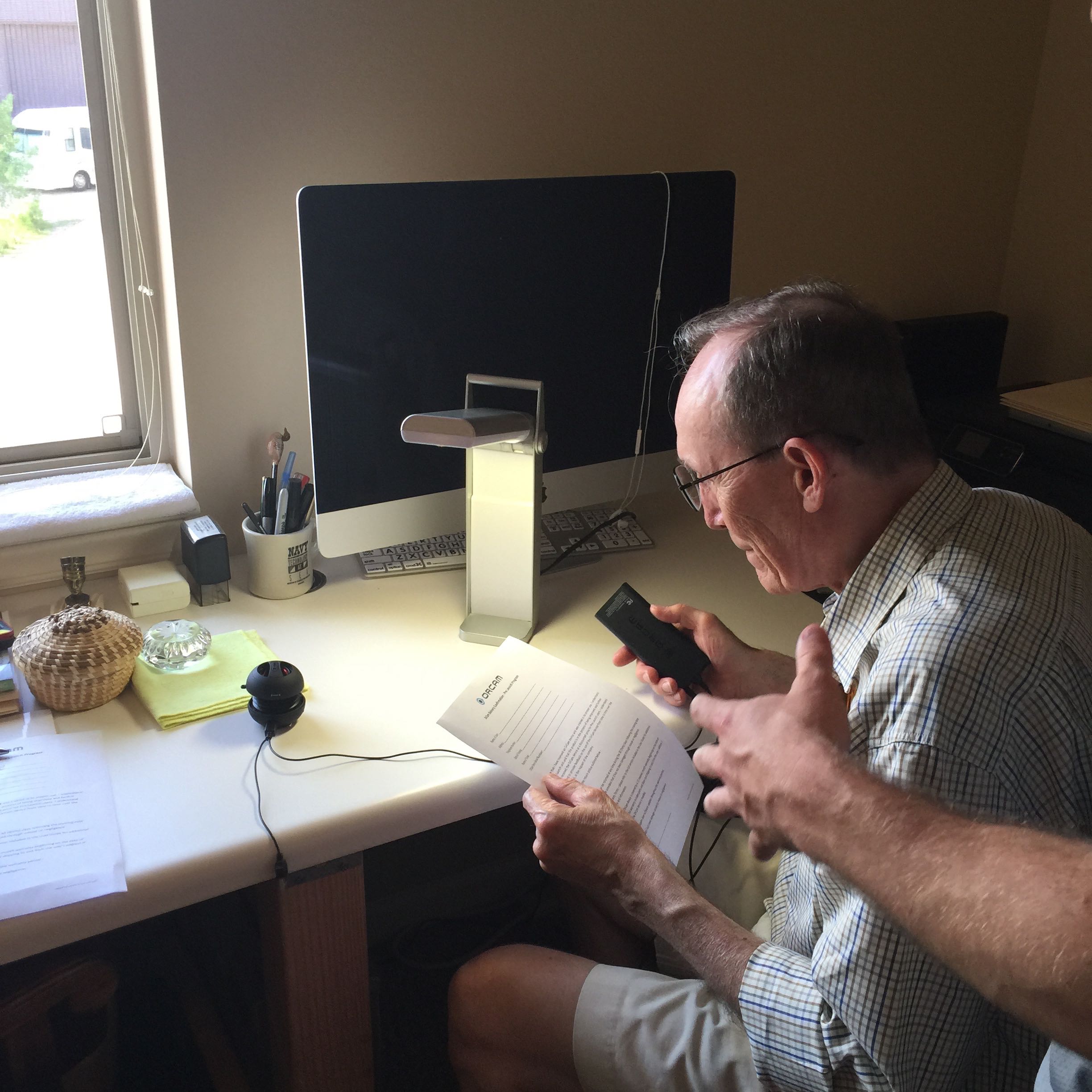 Matt Showing Me How To  Position The Camera To Take A Picture
Next, we started in on the training itself. I was asked to point at some text and listen for the device to beep. Once it beeped, I pulled my finger out of the way so the camera could take a photo and then read to me what I had been pointing at. The device is smart, so if you are not pointing right on, it may tell you the line is not readable or that there may be more text off to the left or the right side of the page. If either case happens, just point again and take another photo until you are in the right position. When it comes to reading a text, there are two ways to take a photo. Either you can point and wait, or just aim the camera directly where you would like something read and then tap the camera button. Both ways work very well.
I found that the Volume button does pose a challenge when it is at the max setting. The voice is somewhat distorted but can be lowered to your personal taste until it becomes clear to you. Once set, the volume will stay on that setting and will not require additional adjustments each time you use the OrCam.
LISTENING TO ORCAM FOR THE first time 


As I continued trying the device, Matt explained that I would be able to read just headlines or chapter titles in a newspaper or a book, which I am very pleased to have the option of doing. This ability can save an enormous amount of time by making it very easy to find what you want to read. Then, if desired, you can take a photo of the corresponding section or page to have it read to you. This process works by pointing your finger and holding it in place just below what you would like to read. The device will announce that Touch Reading is ready and will then read where your finger is placed. As you drag your finger on the page to the next heading you want to read, the device will automatically read it as well. When done, you just remove your finger and it will stop reading.
learning touch reading


Something I have missed for a very long time is reading a book. We tried this next in my training session, and it was amazing. I pointed, removed my finger, and then waited briefly as the device took a picture and began to read to me. If the whole page was not photographed when the OrCam is finished reading, it will prompt you to take another photo where it finished. It will then pick up right where it left off and continuing reading to the end of the page. It is as remarkable as it sounds, in addition to being convenient and user-friendly.
reading a book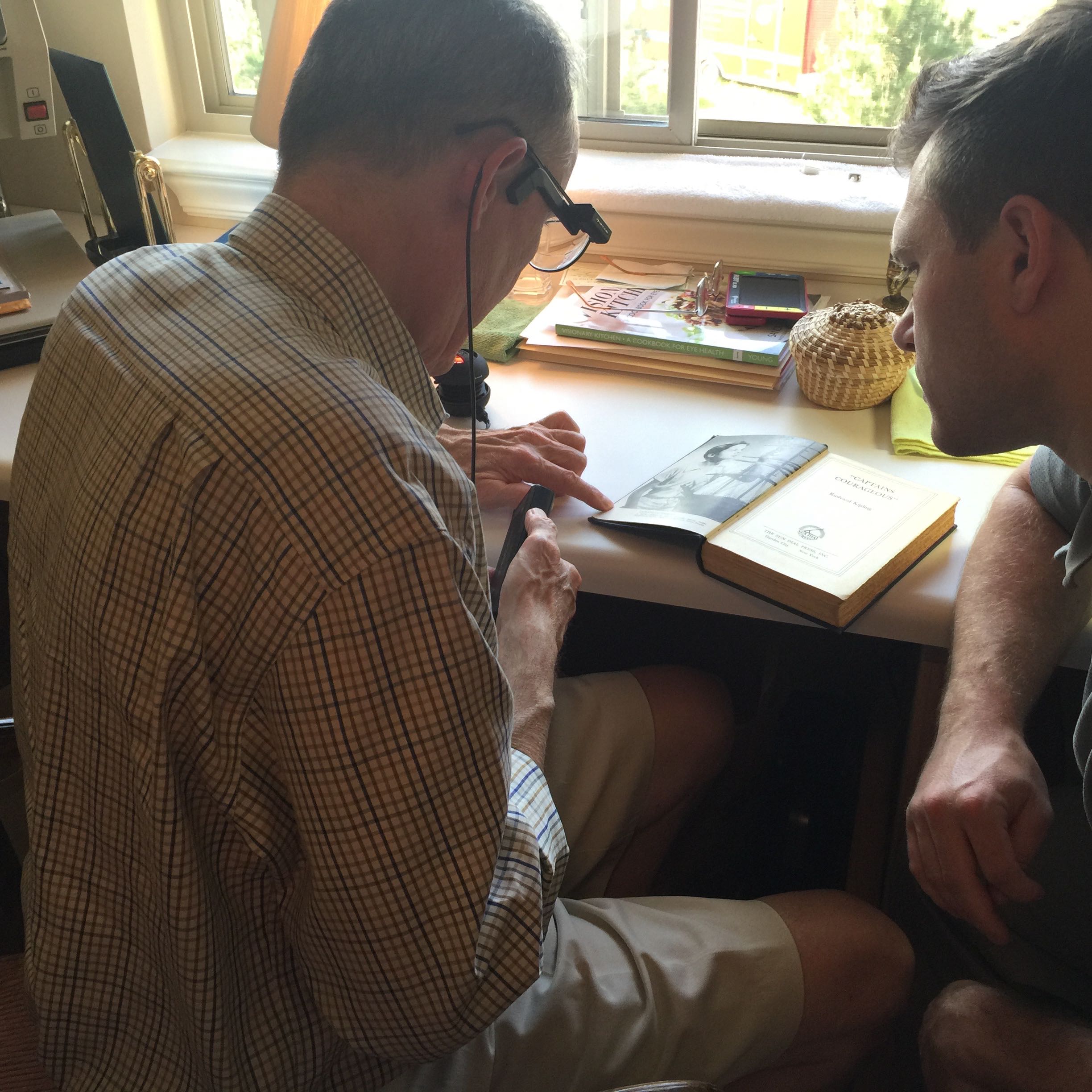 While taking any photos with the device, however, it is very important to remember that you must have good light for the camera to pick up the text. For example, anything I read on my computer and my phone works well because the screens are so bright on their own. For other reading activities, Matt suggested buying a floor lamp that would arc over my head and point down like a gooseneck toward what I needed to read. He believes this is the ideal lighting for the device. I currently have task lighting, which works well, but keep in mind that you will need bright light to photograph the text, especially in the evening as light from the outside diminishes.
The OrCam's capabilities are not only limited to reading, however. There were two other functions I was extremely interested in using: product recognition and facial recognition.
moving on to product recognition
For product recognition, learning where to point the camera is important, as the angle is crucial. Because some product labels use script instead of print writing, there will be times that you will not hear everything that is front of you. However, as Matt says, you will get the gist of the text including the product name, which is exactly what you were looking for. This part of the training session and learning process can be tedious, but using product recognition is very easy once you improve the camera angles. You will be done with your shopping before you know it! Matt explained to me that, in the future, the OrCam is going to come with 100 or more products already in the device, to make shopping that much easier for all of us.
Because I want to give you an honest and personal account of my OrCam journey, I will tell you about my first trip to the grocery store today using the device. My experience was mixed for many reasons. While walking around, when I picked up a product and pressed the camera button to take a picture, nine times out of ten the noise level in the store was too great for me to hear the device. This was the case even at max volume, which, as I explained earlier, was also distorted and very hard to understand. Because many product labels do use script, the device would not read them. In addition, I found out that if I used my finger to point at the product, it was difficult to get a good, readable picture. This may be due to the lighting in the store. I wound up using my trusty HD magnifier for product recognition. I believe you would be better off using a magnifier to find what you are looking for in a store. Then, when you get home, place the product into your product recognition database on the device. That way, the next time you are in the store and go to look for that particular product, the OrCam will cleverly recognize it on the shelf and tell you what it is. This, of course, is exactly what we want: to take a picture and tell me what the product is.
product recognition


a conversation with support


My next step is to place some of my products into my device's database. I will let you know how well this goes for me. Before discussing that, however, I wanted to let you know that I had a conversation with the OrCam tech support in Jericho, New York. I let them know about the high volume levels in the store that made it almost impossible to hear anything on the device. I was assured that the problem has been solved and that a new bone-conduction system has been added to the device to allow for better volume control in loud situations. I also spoke with them about lighting and the problems I had with the device not responding as I tried to take a picture while pointing at a product in store. I was told that low light readability is being worked on, so hopefully we will have that fixed soon. 
The technician also explained to me that there is a light I could purchase for my glasses that would provide a directional beam of halogen light, making it very easy to take a picture. I was sent an email telling me where I could purchase the light and that it would cost around $5. Finally, I also spoke to the OrCam office about a problem I was having with placing products into my device's database. After explaining my issues, I was told the problem was with the SIM card, and that they would send me a new one to solve the problem. Once I receive the new SIM card, I can begin to place products into the database. I will let you know when I start that process.
I have since writing this, purchased the light.  I found it on E-Bay for a little over 7 dollars.  here is a pic. Here Is The Link.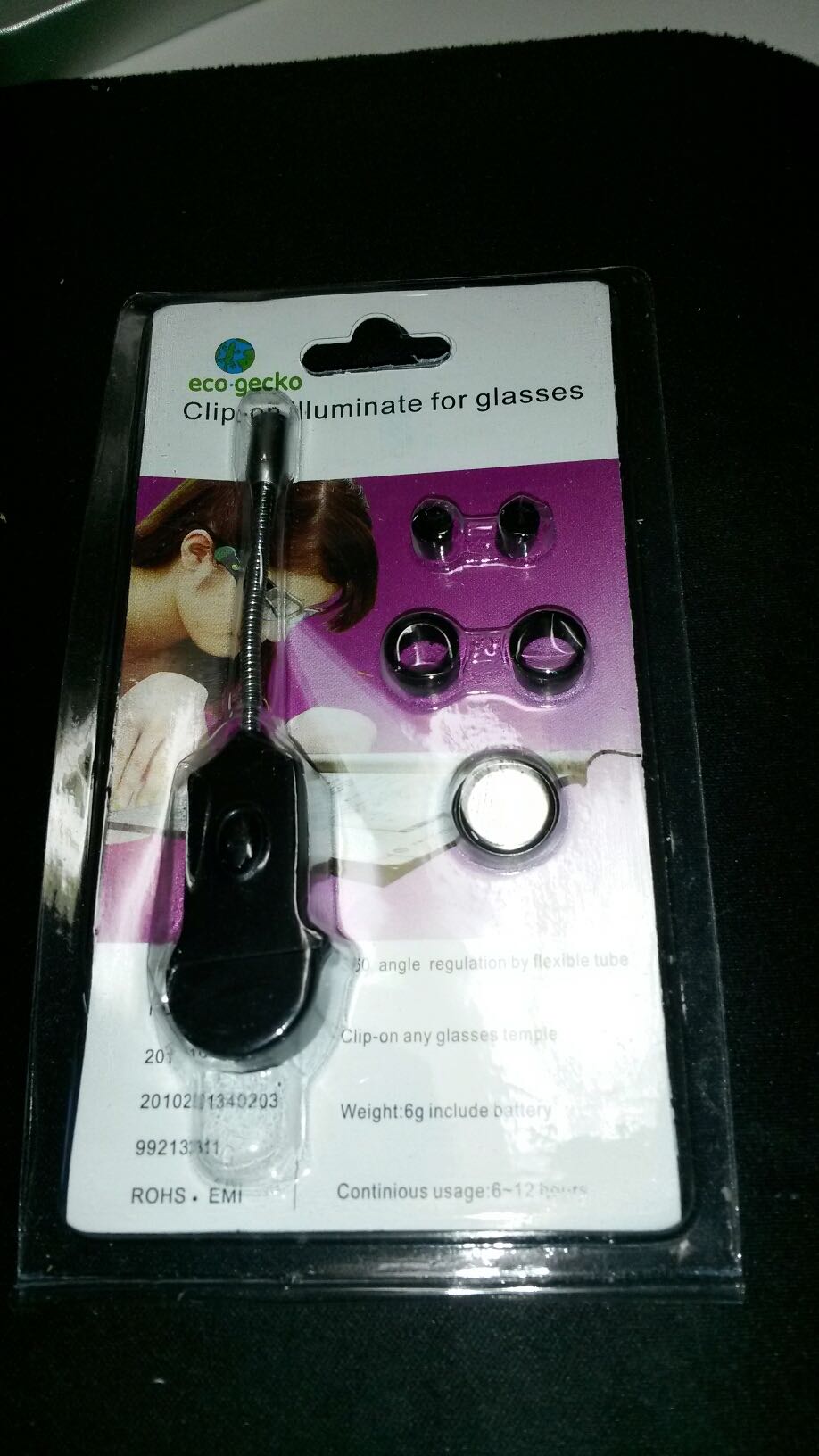 To sum everything up, I will be receiving the new bone-conduction system for the volume, and a new SIM card is on its way to solve my product database issues. The company is working on enhancing low lighting readability. Every new device has a learning curve, and this one is no exception to that rule. I look forward to the updates on the device as we go along. So far, however, I am very happy with this technology. It reads text, it recognizes products and stores them for future use, and has facial recognition and storage capabilities. In addition, I like that the device is non-obtrusive and very lightweight. The battery life seems to be somewhere between four and five hours.
Interview with OrCam
Today, I received a phone call from OrCam to ask me how the device was working for me. I was pleased to speak with a representative from the company and have the opportunity to give feedback. They had a series of questions for me about the operational aspects of the OrCam. What did I think of the device? Was I using it every day, and if so, for how many hours each day? What did I like about the device? Was there anything that I thought could be changed to make it a better experience for anyone else using it? Were there any problems with the device, and if so, what were they? 
The review above explains it all so far.the only addition to the conversation i had was asking if a direction beam could be added to the camera to point at products for positioning the camera to take a picture.  I was told the idea would be passed onto the team at OrCam.  As soon as i receive the Sim-Card, i will continue the review of my journey with OrCam.
my new OrCam headset
Received my new OrCam headset today with the improved volume.  It works absolutely clear, even at the top volume setting. As you can see, this device takes up hardly any space on your frames, and the computer is small enough to slip into your pocket.  You hardly know it's there.   here is a pic.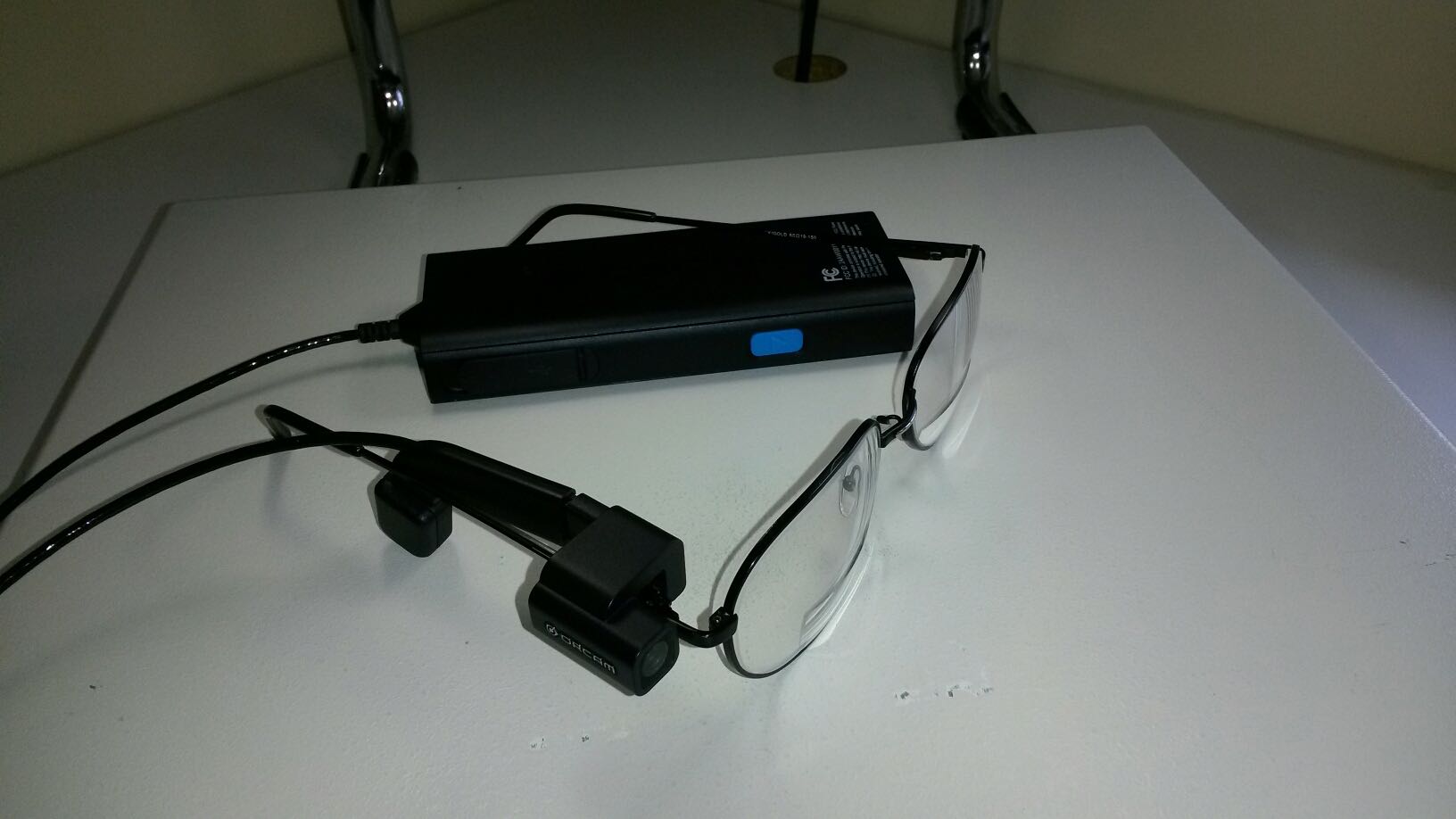 Get Exciting Low Vision Technological Secrets Sent To You...