Low Vision Store,  Apps,  Technology, and  New Products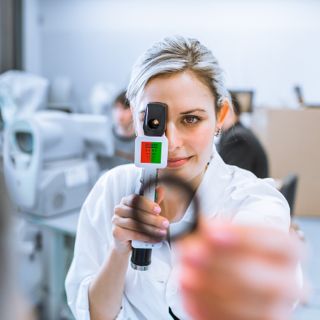 The Low Vision Store:
Are you looking for low vision products that can help you function better in your everyday life? We understand how hard it is to find products designed for the low vision community. That is why we have compiled a list of technology, applications and low vision software that helps you live more independently, work more efficiently and even remain social.
Low Vision GPS
Always know where you are - whether you are walking, or riding in a bus or car! Trekker Breeze is the easy-to-use, affordable all-in-one handheld talking GPS that verbally announces names of streets, intersections and landmarks as you walk. No need to stop passersby to know where you are - simply press a button and Breeze tells you your location on the spot. When you are in a vehicle, Breeze announces all intersections, allowing you to exit when you want. Click here

blind and low vision aids
the white cane 

Europa Superior Folding Canes with Screw on Tip
Made of heavy gauge aluminum. Tapered joints for maximum rigidity. Double strand inner elastic. Golf grip with wrist loop. Reflective white center sections. Red bottom sections. Lightweight - only 9 oz. New screw-on nylon glide tip. Click Here

Low Vision Magnifiers

The Mercury Video Magnifier
The Mercury Handheld Portable Video Magnifier is a touch based live magnification device that can perform accurate full page OCR. With Mercury you get a wide 7 inch display screen with built in LED light and much more. Click Here


The Candy 5" handheld magnifier
Is one in a line of new magnifiers to come to the market. The reason i like this model is it is very  lite, weighing less than 10 oz.  And with the large screen, it makes it very easy to read.  The plus for this model is that it will enlarge to 22 X in size.  Making it work for everyone.  The added bonus for me is the legs that open to stand the magnifier up.  This makes it much easier to read , keeping the print very steady. The colors can change, it will freeze frame, and give you four hours of life.  A very good choice when adding to our arsenal. click here.
Low Vision Calculators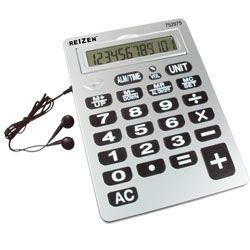 Jumbo Talking Calculator
The wide keys mae this calculator a must to have for those of us with low vision.  It comes with large lcd screen for easy reading, but that will take backseat to the talking response you will get when tapping one of the keys.  There is a high, low, and off to the voice, as well as ear buds for privacy.  standard year, date, and time are also added for even more convenience.  Click Here.

Low Vision Keyboards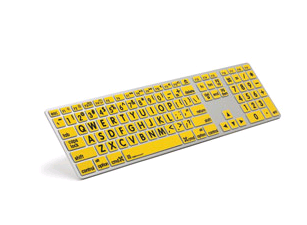 The Large Print Keyboard
Just like low vision magnifiers, we teach you the basics of buying a low vision keyboard.  This is the keyboard i purchased with my new Mac computer.  It is very easy to the touch, stays put while using and is put in use with one tap of a button.  i couldn't be more pleased with the results.  Click Here.

Low Vision Software
Apple Apps

Making Your Life Easier One App At A Time

With technology moving at such a fast pace today, it was imperative that the Apple Apps needed to be included in our store.

From Magnifiers to GPS, we are forever grateful to the developers of these and many other Apps that help us to get around, read our money, and even tell us what we are looking at. 

The iTunes Store is the best way to play your music, read a book, find Apps that really work, including the Mac Apps.

And with the new iPhone 5s fingerprint technology, you need only use your print to pay online. Thank you Apple for helping make our lives inclusive.




Recommended Resources for Low Vision
Below, you'll discover a mixture of vision aids, software, and content to help you make your decision regarding which products will best help your life.

Reading Aids for Low Vision - You can use reading aids for low vision to overcome loss of sight and live a truly independent lifestyle.
Low Vision Aids for Children have a huge impact on their ability to thrive. Learn how to help children live with vision loss in an empowering and independent manner.
Apps for Low Vision Students - Today's apps for low vision students are revolutionary in terms of helping you keep pace with a fast world.

Low Vision Magnifiers - Tips for selecting magnifiers. Which features will serve you and your situation best?
Low Vision Keyboards - How to select low vision keyboards in terms of using contrast, labels, comfort, and USB options. Learn bonus tips about using special keyboard features.
Low Vision Software - Learning how low vision software can make your life easier. Through the use of modern technology, you have the ability to overcome loss of sight as you live a rewarding life.
Activities for Visually Impaired Students that make a difference in how well they succeed throughout life.
Get Exciting Low Vision Technological Secrets Sent To You...


Low Vision > Low Vision Store