Age Related Macular Degeneration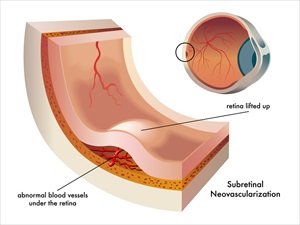 Age Related Macular Degeneration, also known as AMD. If you are like most, living with AMD isn't easy, but by understanding it and finding ways to cope, you can live a healthy, satisfying life with age-related macular degeneration.


What is Age Related Macular Degeneration?
AMD is a common condition that leads to total or partial vision loss in older adults – usually over the age of fifty. It causes severe damage to the macula – a small spot located next to the retina and that is used to help you sharpen images and see things in front of you.
 For some people, AMD takes its time, and the vision loss is minimal during the process. But, for others, rapid degeneration can occur, leaving individuals with severely low vision. Most patients with age related macular degeneration suffer from blurry vision, starting with a spot that slowly grows.
Who is Commonly Diagnosed?
Typically age is a related factor in AMD diagnosis. But, other reasons a person will be diagnosed with AMD include:
 ·         Smoking – Smokers have an increased risk for developing AMD.
·         Race – Caucasians are more likely to develop age-related macular degeneration  than other races.
·         Family History – People with family history often find themselves at higher risk for developing AMD themselves.


Coping with Low Vision as a Result from Age-Related Macular Degeneration
If your or a loved one suffers from low vision because of AMD, the experience can be rather traumatic. Low vision means that even if you wear glasses or contact lenses, you cannot see as clearly or as much as you used to. Even with surgery, things might be blurry, you can't see far away or make out crisp lines. For some, reading, cooking and even shopping can be difficult with low vision.
 There are things out there to help you cope with low vision because of AMD. One of the biggest developments for those with low vision are apps. These apps are available on your smartphone device and can help you do functions like reading or even detecting color. They're exclusively designed for those with low vision due to injury or conditions like macular degeneration.
For example, LookTel VoiceOver uses the iOS platform to help you adjust to using VoiceOver technology LookTel VoiceOver Tutorials can be purchased today through Low Vision Technologies. If you're new to VoiceOver technology, you'll want to get LookTel. It's tutorial-based design and guides help teach you the gestures needed to work a VoiceOver program and once you learn, there are endless possibilities for how that technology can be used.

Potential lifestyle choices that may help reduce the risk:
Regular exercise

Maintain a healthy diet of fish (omegas), antioxidants, and leafy, green vegetables

Avoid smoking

Maintain healthy, normal cholesterol and blood pressure levels

Most Common Form is Dry Macular Degeneration
About 90% of folks with age related macular degeneration have dry AMD.

This happens when a gradual blurred vision results from the breaking down of the macula's light sensitive cells. The first thing you'll notice is a blurry spot directly in the center of your vision.

Brightness reduces as dry AMD advances, so reading may require more light and you may have trouble recognizing faces.

Wet AMD
At the onset, wet macular degeneration causes straight lines to become wavy. As well, you may experience loss of central vision due to a blind spot that develops.

Although only 10% experience wet AMD, it's the more severe type. Beneath the macula, new blood vessels begin to grow.
These blood vessels are usually fragile and leakage of fluid and blood occurs. This causes swelling of the macula, as well as possible retina scarring.

If your wet AMD is treated quickly, further symptoms can be delayed. While these aren't cures, early detection can lead to laser treatment or drug injections by your doctor to help slow your vision loss.

Help for Age Related Macular Degeneration
Low vision rehabilitation is available as your first step in getting help and it all starts with a low vision exam.

You can go to a hospital clinic, independent living center, for-profit or nonprofit state vision rehabilitation centers, or low vision optometry/ophthalmology offices for this exam.

As you get help for your eye condition, you'll find there's a team of specialists to help with low vision:

optometrist or ophthalmologist
occupational therapist
orientation and mobility specialist
rehab teacher
adaptive technology specialist
and social worker
Independently Seeking Help
I've lived with low vision myself for over 25 years and I encourage you to seek help independent of the medical community.
There are all types of low vision aids to help you with your age related macular degeneration:

Video magnifiers

High-powered lens reading glasses

Talking calculators, clocks and watches

Apps, targeted directly to making our lives work better for us

Computers equipped with speech-output capability
Hand-held magnifiers
If you'd like to explore the high tech world available to all of us with low vision, fill out the form below and I'll send you the info you need.

Get Exciting Low Vision Technological Secrets Sent To You...


Further Resources
Living with Macular Degeneration. What you must know about depression, symptoms, and the technology that allows for independent living.
Symptoms of Macular Degeneration - Learn the symptoms of AMD, as well as the 2 types, risk factors, stages, and successfully using new technology to live independently with vision loss.
Dry Macular Degeneration Treatment - Discover the truth about dry AMD treatment and what you can do with technological advancements in order to live an empowered, independent life.
Wet Macular Degeneration Treatment - Learn about wet AMD treatment. The Tufts University study in Massachusetts reveals promising new findings
Macular Degeneration Test - Discover each type of test, ranging from Visual Acuity Test, Dilated Pupil Test, Amsler Grid & new Macula Risk genetic testing.
Macular Home > Age Related Macular Degeneration